What is Alopecia
Alopecia is a condition in which hair is damaged or lost from some or all areas of the body, usually from the scalp. Because it causes bald spots on the scalp, especially in the first stages, it is sometimes called spot baldness.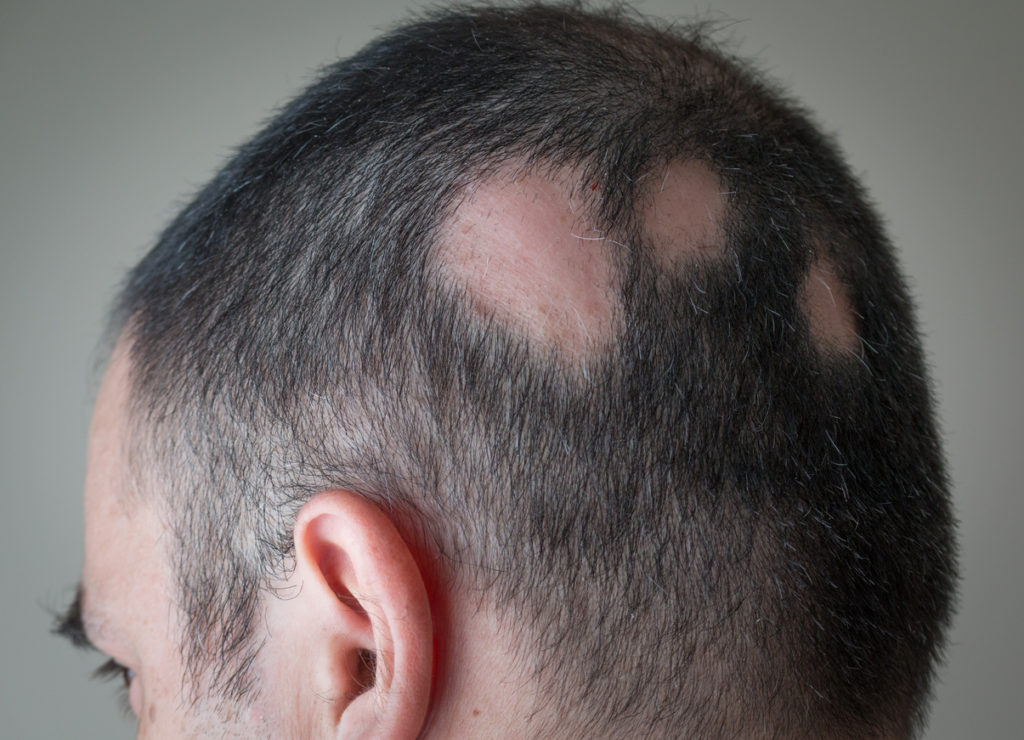 Types of Alopecia
There are two main types of alopecia
Alopecia areata occurs when the body's immune system attacks the hair follicles and causes hair fall.
Androgenic alopecia, on the other hand, is an inherited form of hair loss. In androgenic alopecia, the hairs on the head grow out and fall out. In men, it is called male pattern hair loss, in women; This woman is called diffuse hair loss.
In 1% or 2% of cases, the condition may spread to the entire skull (Alopecia totalis) or the entire epidermis (Alopecia universalis).
Symptoms of Alopecia
The most common symptom of alopecia erita is hair loss, in which the hair usually falls a quarter. Although many people with alopecia areata get only a few bare patches, some people may lose more hair. In rare cases, the condition may progress to hair loss on the head (alopecia areata totalis) or complete loss of hair on the head, face, and body (alopecia areata universalis).
In cases of alopecia areata universalis, eyelid and eyebrow damage, as well as hair in the nose and ears, can make a person more susceptible to dust, germs and foreign particles entering the eyes, nose and ears.
In male pattern baldness, especially in temples, regrowing the hairline widens the bald spot progressively on the crown of the head.
Female pattern baldness, gradual thinning of entire hair in the scalp.
Causes
The reasons are still unknown.
AA is non-communicable, or not contagious.
It is more frequent in people who have affected family members, suggesting that heredity may be a factor.
Different types of cancers including lymphoma and basal cell carcinoma
As a result of pregnancy.
Malnutrition, anorexia nervosa, miscarriage or crash diet.
Physical or emotional stress
It is slightly more likely to occur in people who have relatives of autoimmune diseases.
The condition is considered an autoimmune disorder in which the body attacks its own hair follicles and prevents or inhibits hair growth.
Treatment
The effectiveness of the drugs used for the treatment of alopecia depends on
* Cause of hair loss
* Damage Limit and
* Personal Feedback
Types of treatment for FDA approved alopecia include-
MINOXIDIL- Contents
CORTICOSTERIOD– Topical corticosteroids or injection of cortisone into the scalp can treat alopecia erita.
MESOHAIR-Mesohair therapy can restore hair loss or thinning of hair. Hair loss treatment is injected into a specific area as small as an eyelash with the use of a needle.
Mesotherapy is an advanced cosmetic treatment for all types of alopecia and male / female pattern baldness.
Mesotherapy replaces vitamins, minerals that the body loses with aging and stress. Mesotherapy for hair may cause hair loss medications to stimulate blood flow to the scalp and revive hair follicles. Through microinjections, hair loss treatment tissue distributes nutrients to improve the environment and directly stimulate hair growth to the hair follicles.
Mesotherapy is a series of micro chains of vitamins, minerals and DHT blockers that are directed into the scalp to promote hair re-growth. Mesotherapy for hair is a safe, simple and economical option to restore hair without a hair transplant.